Here are the faces of Big Holler,

MY FAMILY

and why my life is so full and blessed!
left to right
My Husband Michael,
My daughter, My nephew ( the highway patrolman)
My son holding his daughter, His wife,
Me and my mom
the four big grandkids:

the little girl and three boys,
well they are what makes my world go round.
So as you see our puppies get lots of spoiling,
lots of love, and some days are longer than others,
and responses are slower!
We truly appreciate each and every one of you
that have added one of our wonderful puppies to your family, making you part of our family.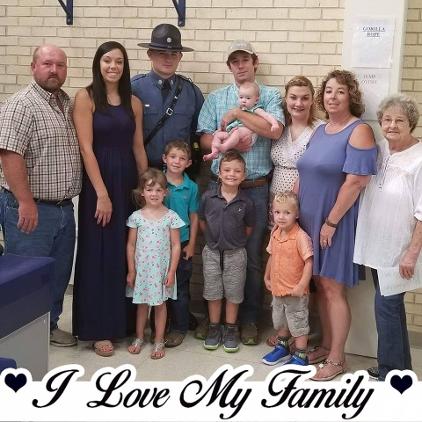 We want to thank you for visiting our site and invite you to read this page and explore our site to learn all about us! It should answer all your questions, if not just message me!
We LOVE what we do!


We started raising dogs, miniature dachshunds, in 2005. Our story started with two little girls for our children's FFA projects, Jazzy and Peanut (who won a weenie dog race off, that was fun!). Before this time we had always had beagles which the boys enjoyed rabbit hunting with. I was always raised on a farm so caring for animals has been something I have done most of my life, and love it!

We strive to attend as many seminars and lectures a year as we can in order to do what is
best for our four legged kids. We try for 2-6 continuing education hours every month!

Tina also has a Bachelors Degree in
Business Management and Administration, along with a
Bachelors degree in Criminal Justice.
Education is on going and something no one can ever take away from you!

We love playing in the show ring, and of course winning is GREAT! Competition is just in our blood!

We have tried a few breeds that just weren't our cup of tea for some reason or another.
Yorkies and Chihuahua, just too little and yippie, tiny puppies are so fragile.
English Mastiff, by far our favorite breed and we will always have one,
Mastiffs have large litters and are terrible mothers, I couldn't handle having 14 puppies at
birth and raising less then half, broke my heart no matter how hard I tried.
We LOVED our English and French Bulldogs as well, and when we Lost our MO to some
unknown reason at the age of 2, and we had to retire or Phat girl super early
We were devastated and I couldn't get over it. Yes I wear my heart on my sleeve!
In 2014 we started the year and wanted more low keyed dogs, not as time consuming
so we could focus the next few years on making memories with our grandbabies!
If you don't have grandbabies yet, let me tell you, you're whole world will change and they love the puppies!

Currently we are still raising Dachshunds, such a fun little dog and a surprise in every litter!

Boston Terriers of all colors
and we will no longer have Beagles as of 2019,
Maybe in the future when those grands want to rabbit hunt.
I can recommend an excellent breeder!

ALL of our Boston Terriers are JHC Tested
ALL our Beagles are MLS tested
Our dachshunds have been started on PRA testing.

All adults over one year old are OFA certified on hearts and Patellas.
OFA CERF (eyes) on many of our adults and more to come as clinics are available.
2017 with AKC recommendations we have started OFA hips and legg calve perthes.

Yes our dogs reside in pens, but they do not live there life in pens.
All our adults and puppies are super social and friendly, ask any of our inspectors or vet,
as our dogs don't know strangers, nor our puppies!
Lots of handling from grandbabies to grandparents!

Most of our crew are leash trained, and those that are not, are working on it.
We open gates and let everyone stretch their legs and explore.
In which our grand children love this chore and the 4 legged kids, and they all LOVE them!


We strive to raise wonderful puppies, healthy and full of personality.
Puppies receive multiple wormings, parvo and 5 way puppy shots, all are microchipped,
and puppies are started on interceptor plus at 6 weeks as a heartworm preventative.
Puppies will have receive a negative fecal ( under microscope) prior to leaving us to be sure parasite free.
prior to leaving us at 8 weeks old. Puppies may not leave us before they are 8 weeks old, its the law. Our desire is that you are completely satisfied with your new puppy so we can be assured that our puppy will have a satisfied master to spend its LIFE with. Remember a puppy is a BIG commitment, not a "till you get tired of it"

We are licensed and inspected by the State of Missouri, United States Department of Agriculture (USDA), and
AKC (American Kennel Club which we are breed with heart certified)
We go thru routine and surprise inspections with no issues.
We are in good standing with all the above, and are proud to report
we have never had a non compliant issue!
Missouri has some of the toughest laws in the US.
Did you know that as a licensed kennel we have more restrictions on us then:
Day-cares, hospitals, and restaurants which can operate as long as they have a 70% or better (scary),

Do you know we have to have every dog handled by a vet yearly,
a dental plan and emergency care/evacuation plan in place,
We have to have documentation of every scrap, limp, etc and proof we took that dog to the vet.
How many children do you know see a Dr or dentist yearly?
I love what I do, and I only want the best of care for our furkids,
But I think it is sad, that the regulations for animals are way more than that for our children.


We attend seminars and educational conferences to keep our Continuing Education
Hours up, and in order to stay up to date on the best medications, foods, and care of our animals.

Due to the HSUS and Prob B, licensing requirements for the state of Missouri has only
left an elite few that are striving to do things right! If they are not licensed they are illegal or not doing it right!
New USDA requirements have cracked down on internet sells of puppies too. So do
your research and make sure you are buying from a licensed, professional, and educated breeder!

We work with one of the best vets in the area! He does routine inspections as well as checking all new breeding stock, and hands on every dog at least once a year usually two or three times a year. Every new dog is taken to him, he approves them sound for breeding, brucellosis test them, and they are quarantined until he gives the okay to be introduced into the family.

We are very strict on who and what comes in and out of our kennel for the safety
of our adults and puppies. We do not allow visitors in our kennel area nor dogs that are
not ours on the premises. And for new safety reasons:
Due to the wackos out there, sorry don't know a nicer way to put it,
We will no longer be inviting families into our home to meet/pickup
your new puppy. We will be meeting in a public place for all of our safety and yours.


All adults are registered with AKC, APRI, UABR, and ACA.
Puppies will all be registered with AKC and puppy registration papers provided unless their add says otherwise.

We are currently feeding Royal Canin Mini chunks to our adults.
Mommas and babies eat Diamond puppy.
More questions? Just contact me!
Email
, text or call 417 254 4950 Be happy to visit with you!
We are in a limited service area, voice calls do not always come thru.

Emails are best, we live a busy busy blessed life, and email reminds me that I have not responded!
I get tons of texts, which are great but sometimes they get overlooked and not all voice mails come thru.
Some of the issues with living in the middle of now where.