The Big Holler Pups name has been registered with the Missouri Secretary of State.

Copyright 2010 All rights reserved.

We have fawn puppies available now,
Photos and info at the bottom of this page,
SCROLL DOWN.
Expecting a rainbow of colors soon!
Shipping/transport subject to availability at this time
All our Boston Terriers are guaranteed to
NEVER develop JHC (Juvenile Hereditary Cataracts,)
which will leave them blind by the age of 2


ALL of our parents are JHC tested, DM and CMR1 Tested
along OFA certified on Hearts and Patellas!
We have started hip and leg calve perthes certifications
along with cerfs (eyes)

Black and whites or Red and whites, Pet price $1250 Full breeding rights can be discussed.
Blue, Lilac, Fawn, Heavy brindle, Champagne $1500 pet price, Full breeding rights can be discussed.
Puppies take NUVET vitamins, Healthgard probiotic
Started on doggy door training
Current shots 5 way at 7 weeks, boosters needed at 9/12/15
Multiple wormings
Interceptor plus for heartwoms
Puppy Puzzle and some Puppy culture training/stimulation
Super socialized kid and vet approved!!


Please read our entire site it should answer
ALL of your questions.
we DO NOT approve all families.
Taz ( 13 lb reverese fawn brindle) and Suzy 15 lb fawn, have a gorgeous litter of puppies.
Born on 6/6 will be ready to go around 8/4,
Parents are JHC and DM clear, OFA certifcations on Eyes, hips, leg calve perthes, hearts and patellas
.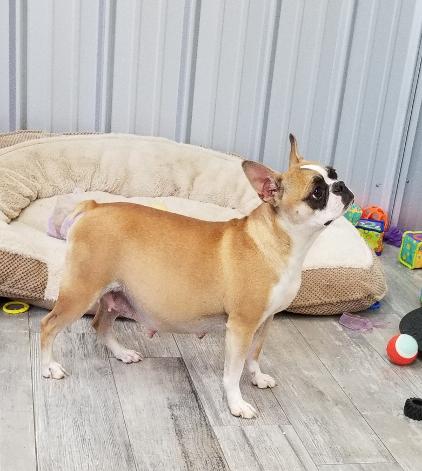 This sweet little girl is Roo
She is a fawn with black mask
Price is $1500 SOLD HEADED TO GA
Oh My Pudding Pie,
This female has stolen my heart, someone better scoop her up fast!
Fawn with a black mask
$1500 Sold Going to Tx
Ranger is a chocolate fawn with a chocolate mask
$1500 Sold going to Boston!
Timber is a gorgeous fawn brindle he may get lighter or darker as he matures
$1500 available.
SOLD HEADED TO MA
Stitch Is a gorgeous Brindle male
He will get more vivid marked as he ages, I m not sure yet if he will be as vivid as his dad